Programs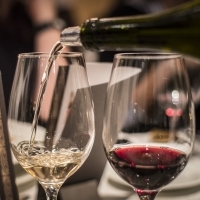 Wine Dinner
Even though the program is already a dusty bastion in ARAZ's life, we can't mention two of the same wine dinners. Talented winemakers, brilliant wines and heavenly dishes have been lining up for the past eight years.
There was a lot of work and preparation behind each wine dinner. Each single was special. And there is nothing more to prove this than the number of returning guests, the many new guests, and the excellent feedback.
By their nature, our dinners are unrepeatable, special, and provide an unforgettable experience for our guests and for us. The good news is that this program will continue to be included in our restaurant's offer.
Bolyki and Breitenbach
The participants of our next wine dinner are Bolyki Winery in Eger and Breitenbach Winery in Tokaj.

János Bolyki has been making wines since 2003 and his first Bikavér ("Bull's Blood") received a silver medal at the Bordeaux Wine Olympics in 2006. Since then, one or two wines have been awarded each year for the world's largest wine competition.
János B. Kiss, owner-chief winemaker of the Breitenbach Winery in Bodrogkisfalud, founded in 2006, has already met hundreds of Hungarian and foreign wineries in his work and has gained a huge international insight into the world of wines.


---
We are looking forward to welcoming you:

On the 30th of January, 2020 (Thursday)
From 7 P.M.
---
Menu:
Bolyki Királyleányka 2019 - Breitenbach Királygát Furmint 2017
Lightly Smoked Duck Breast, Salads, Roasted Pine Nuts
Bolyki Rosé 2018 - Breitenbach Hárslevelű 2012
Creamy Porcini Soup, Roast Goose Liver
Bolyki Pinot Noir 2013 - Breitenbach Furmint Narancsbor 2015
Pork Cheek Ravioli, Hungarian Cracklings, Sage Butter Sauce, Apricot
Bolyki Cabernet Franc 2017 - Breitenbach Furmint 2017
Venison Soulder, Dried Fruits, Potato Dumplings, Forest Mushroom Roll
Bolyki "meta tema" Grand Superior hárslevelű 2013 - Breitenbach Szamorodni 2017
Mango-Apple Tarte, Tapioca, Marshmallow
---
Price: 15.500 HUF/Person
Please note, that we have an additional 12% service charge.
Pre-booking discount: In case the price is paid by 26th of January,
it is only 13.500 HUF + 12% service charge.
Concerning the limited number of seats, a table reservation is required.
Parking is free in our underground garage in Nyár street.
Table reservation:
Telefon: +36 1-815-1100 
E-mail: araz@araz.hu